On the afternoon of November 6, He Gaojun, assistant to the president of Wangli Security Technology Co., Ltd. and general manager of the manufacturing department of Wangli Door Industry, and Li Zhijian, general manager of the human resources administration headquarters, made a special trip from Yongkang to the Jinhua Central Hospital to visit and comfort the patient Huang Xilian, a seriously ill employee, gave a donation of more than 104,000 yuan from the company.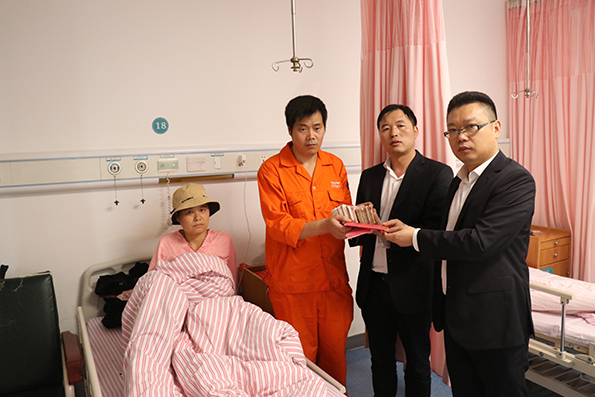 Huang Xilian, 40, from a remote village in Jiangxi, is an ordinary worker in Wangli Door Industry. Her husband Huang Derong is a monitor of Wang Li Door Industry. The couple have been working hard since they joined Wang Li in 2005. On the post. In August of this year, Huang Xilian suddenly felt numb and went to the hospital for a diagnosis. He was diagnosed with a grade 3 brain cancer (brain cancer). This is undoubtedly a sunny thunderbolt for an ordinary rural family. Later I went to Shanghai for treatment, and the operation cost alone cost more than 100,000 yuan. Later, I was transferred to Jinhua Central Hospital for treatment, which cost more than 30,000 yuan. In the future, the cost of chemotherapy will be high, putting the family's life in trouble.
The sick demon lover is affectionate. After learning about Huang Xilian's condition, Wang Li Company immediately issued a proposal letter, calling on employees to donate love to help Huang Xilian's family get through the difficulties. As soon as the proposal was released, leaders and employees responded positively. Employees from Wang Li Security, Wang Li Door Industry, Wang Li Gao Fang, Sichuan Security and other industries have donated one after another. Everyone is doing their best to contribute their wishes. 200, 50, 10 yuan ... A warm and touching scene of warm heart appeared in the enterprise. With the active participation of all employees and donations from the union, the company raised a total of more than RMB 104,000 for Huang Xilian, and sent it to Huang Xilian's hands as soon as possible, encouraging her to recuperate and recover from illness.
"Thank you, thank you for your care and help ..." I heard that colleagues donated money for themselves, Huang Xilian was deeply touched, tears filled her face, she kept thanking her, and said that she must actively cooperate with the treatment and return to work early post. (Reporter of our newspaper)